---
Bearings may be changed to produce a wide range of cutting depths.  Inserts are either two or four-sided for a great value .
RC-49360:This ingenious tool features both interchangeable cutting edges and an interchangeable guide collar, enabling you to cut a wide range of rabbets. Changing the collars on the twin ball-bearing guide steps the cut width in 1/16" increments from flush through 3/4" with five extra "plywood" sizes.
Between the standard and optional collars, there are 18 different rabbet sizes available. The deep guide collar design adds stability to the tool for hand-held router operations. The basic 2"-diameter bit includes a hex key, instructions, and all necessary parts for 5/8" and 3/4" width rabbets. The "RC" version has extra-long double-edged carbide inserts which enables the bit to cut 30mm high. Inserts can be rotated or replaced without removing the bit from the router.
RC-49355: A scaled-down version of the Superabbet™, this tool features four-sided replaceable carbide knives and a reduced cut depth capacity. It uses the same twin ball-bearing guide collar assortment to produce the same extensive range of precise rabbet widths. The standard tool is supplied with a collar for 1/2" rabbet width. Optional collars are available individually and in five-piece and 17-piece kits.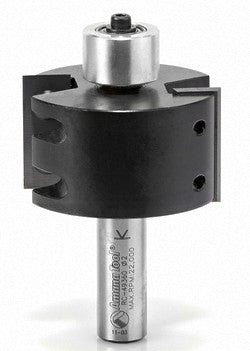 INSERT CARBIDE RABBET ROUTER BITS
can i rabbet perpose used 12mm depth and 32mm streight.

Not in one cut.  The cutter is only 30mm Kerf(Long) and you need a 1-1/16 bearing which comes in the 21 pc set of bearings to get a cutting depth of 12mm.
---
Share this Product
---
More from this collection