---
NOT ELIGIBLE FOR FEDEX SHIPPING.
Timber Wolf™ Bandsaw Blades from PS Wood are the most reliable high-performance bandsaw blades you'll ever use! 
Made from high silicon, low carbon steel, Timber Wolf™ bandsaw blades run cooler and last longer.
Milled teeth make them ideal for re-sawing thick stock because these blades are true tracking and DO NOT WANDER.

Run under low tension, and thus require less horsepower from your band saw.

These band saw blades produce a thin kerf and can make remarkably tight turns.

Welds are re-tempered for superior strength at the weld.


The weld on these blades is warranted.
With re-tempered welds designed for superior strength, Timber Wolf blades are among the most rugged and durable on the market. These bandsaw blades are specifically designed to operate under low tension, requiring less horsepower from the bandsaw and increasing the longevity of both the bandsaw and the blades. Timber Wolf blades' milled teeth make these blades ideal for sawing thick stock, and the blades are guaranteed not to wander. 
Please order carefully! You will be responsible for shipping charges on exchanges due to incorrect ordering

.

Choose by Width and TPI (Teeth per Inch) - Refer to Usage Chart under Instructions Tab for Series Information. Unless noted, all blades are 0.025 thickness.


In stock lengths available: 80", 82", 93.5", 99.75" 105", 111", 115" 133", 137", & 142".    

Custom sizes are available.  Please call us for pricing.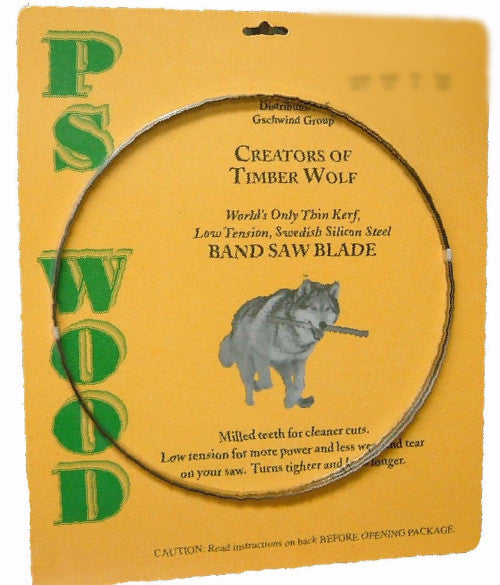 115" Timber Wolf™ Bandsaw Blades
what is pc series

UNDERSTANDING OUR BAND SAW BLADES

PC SERIES (Positive Claw) – Most of us would like to keep the tedious labor of planing or sanding to a minimum. Our PC series of band saw blades is our claim to fame. It is, in its design, everything a wood cutting blade was meant to be. It has over 60% of the speed capabilities that a hook is able to travel at, while at the same time giving you the great finish of a skip. The depth and roundness of the gullet increase sawdust removal and cutting speed while the milled teeth help to reduce the consumption of horsepower. Couple all this with our unique 6.5° rake angle and special 5 tooth set pattern (which allows us to reduce the set) and you now have a true "thin kerf", awesome cutting blade. Available in widths of 3/16" through 1" in many tooth pitches for use in kiln dry wood.

AS SERIES (Alternate Set) – These blades are unique in their body thickness, set, and rake angle. They are .032 thick, have a full alternate set, a unique rake angle of 8.5°, and also incorporate the unique geometry of our PC tooth design. These bands are primarily used in the furniture industry. They have been designed to cut both fast and accurately in very thick wood such as stacked lumber. Woodturners and woodcarvers use these blades to rough out blanks from burls and logs. Their applications are endless. Their performance is excellent if the thickness of your material exceeds 6 to 8 inches. These blades are available in 3/8" and ½" widths, with 3 tpi only in lengths over 90".

AS-S SERIES (Alternate Set Special) – Its uniqueness lies in the fact that it is only .025 thick with a unique set pattern. The total overall kerf is .048. This band was specifically designed for straight-line veneer cutting. When you are resawing very expensive woods that are thick and you want as thin a kerf as possible, a super finish, and you are not concerned with speed, this is the blade for you. Available in a ¾" x 3 tpi only.

RK and HP (Raker, High Performance) – These blades have a very thin kerf and 0° rake angle and are specifically designed for detail work in 1" and smaller kiln dry wood when a very clean finish is required. They are also very effective in plywood, particleboard, and other similar products where tear-out is a concern. These blades can also be used to cut soft metals.

NEW VPC (Variable Positive Claw) – Designed for resawing in small to large boards, green or dry, up to 12" thick. The variable pitch tooth design reduces resonance
throughout the blade by using different size teeth, which produces a very clean finish almost polishing the wood. It is only .025 thick with an overall kerf of .048 and
incorporates the unique geometry of our PC tooth design. This blade is available in ¾" width with 2/3 tpi only in lengths over 90".
---
Share this Product
---
More from this collection