---
Used to cut purfling/binding channels on guitars or any other projects that require precision cuts. Each change in bearings adjusts the cut by .010 when you need a precision fit. Cutter is 1″ Diameter x 5/8″ Kerf with 1/4″ Shank. Carbide tipped. Bearings range from .500 to .880 for binding channels from .250 to .060.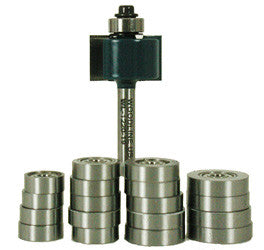 LUTHIER BINDING ROUTER BIT SET
Are the cutting edges ground on a 5 or 6 degree downcut to reduce tear out?

No.  It was made to the specs of our largest consumer and dealer of this set who felt that this would limit the bit's use.

What does the ID diameter of the bearing need to be for your 1220LB binding router cutter ? Also do you have a 59/64 ( .9219 ) OD bearing that will fit the cutter? Thank you

Bearings for this bit are 3/16" ID. The closest to what you are looking for would be 83037, 3/16" x 7/8". We have a metric bearing, 83181, which is 5mm x 22mm, but do not know if this would work well.
---
Share this Product
---
More from this collection