---
With Woodline's shutter bit, anyone can afford custom shutters. We'll even get you started with a free pin and tensioner kit. Extra pin kits are also available which include 50 shutter pins and 4 tension bushings. Carbide tipped.
Find complete instructions as seen in Handy Magazine HERE.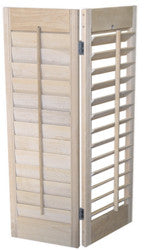 PLANTATION SHUTTER ROUTER BIT
Question on the 5 piece Plantation Shutter Router Bit Set, WL-2055, specifically the one bit for louver slats...what size slats is this bit for? Is the bit for 2.5 inch, 3 inch, or 3.5 inches wide slats?

Instructions on the website are for making 3.5" slats, but you are able to make 2.5" and 3" slats with this bit.

What size shank does the bit have

1/2" shank

How do you tension the slats?

Here's a link to our instructions:
https://cdn.shopify.com/s/files/1/0804/2313/files/Plantation_Shutters.pdf?11309179820706095696
Take a look at page 14 and photo #10 as referenced.
---
Share this Product
---
More from this collection