---
This unique 3-piece router bit set shapes tambours that interlock with a ball-and-socket joint. Unlike ordinary tambours, there is no need for cloth, glue, or wires. The set is also easy to set up and use. The first bit shapes the face of the stock; cutting from each face completes the contour of the ball. Afterward, a second bit is used to shape the socket. A third bit in the set is used to shape the end of the tambour which provides a place to mount a pull for opening the completed tambour. Carbide tipped.

The tambour bit set is patent-pending & makes it easy to create attractive flexible tambours for roll-top desks, breadboxes, appliance garages, or kitchen storage areas. The set comes with a full-color instruction manual for creating a breadbox.
Need some inspiration?  Check this out! 
You can view the instructions here.

Each slat measures approximately 1/2" x 1".
The minimum radius for the tambour door is 3-1/2"
Recommended Maximum Width for Tambour Strips:
Do not exceed 5ft or 60" in length, otherwise, they may sag under their own weight.
To watch the video click below: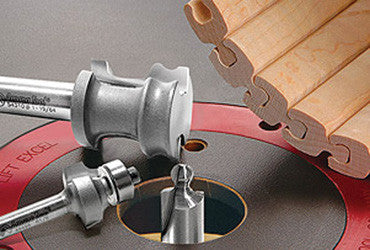 TAMBOUR DOOR ROUTER BIT SET
How tight a turn can this door make. I am planning on building a cabinet with a horizontal install. Door will sweep and then need to do a 90 to park in the open position.

Minimum radius is 3-1/2".

About how much production can I expect From a set of bits and can hard woods be used

Yes, it can be used on hardwoods. You will probably get between 2,000 and 3,000 board feet depending on your usage.

Does it come in 1/4" shank

Sorry, 1/2" shank only.
---
Share this Product
---
More from this collection