---
Ideal for fast removal of material over a large surface area leaving an improved finish at the bottom of the cut. Used on soft and hardwood, particle board and MDF.  These industrial router bits feature solid carbide insert knives with four cutting edges that allow users to rotate the knife when one side becomes dull providing the highest-quality finish available on woodworking tools. A cost effective solution compared to brazed router bits and solid carbide spiral bits.
Perfect for:
Resurfacing spoilboards using CNC
Planing large glued up panels using CNC
Surfacing and finishing wood using timber slab machines
Rabbeting or slotting
Featuring:
4-sided solid carbide insert knives

Exclusive carbide grade for highest quality of cut
Maximum cutting efficiency
Faster material removal process
NOTE: This tool is NOT designed to plunge.  You must ramp down to a depth of 1/4″ deep over a 20″ run.  Use 24,000 RPM and start the feed rate at approx. 320″ per minute.  Go up until you get waves, then back down to a smooth finish.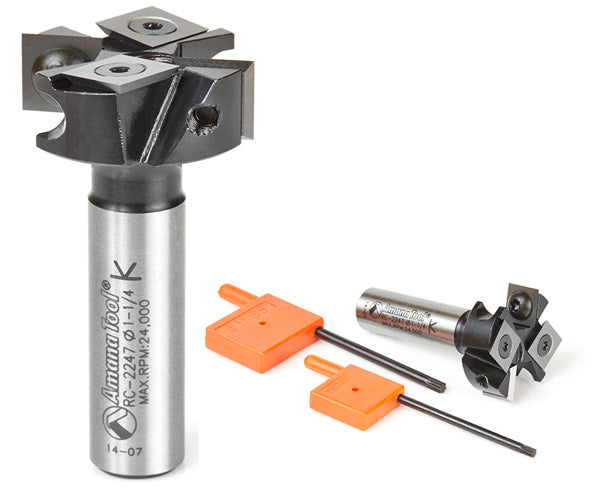 SPOILBOARD SURFACING, RABBETING, FLYCUTTER, SLAB LEVELER & PLANER ROUTER CUTTERS WITH INSERT KNIVES
can i use SKU: RC-2250 on my router sled used to flatten slabs. Porter Cable router with 1/2 inch collet

This can be used as you describe. Just keep in mind that you should never try to take off more than 1/16" at a time.
---
Share this Product
---
More from this collection