---
NOT ELIGIBLE FOR FEDEX SHIPPING.
Timber Wolf™ Bandsaw Blades from PS Wood are the most reliable high-performance bandsaw blades you'll ever use! 
Made from high silicon, low carbon steel, Timber Wolf™ bandsaw blades run cooler and last longer.
Milled teeth make them ideal for re-sawing thick stock because these blades are true tracking and DO NOT WANDER.

Run under low tension, and thus require less horsepower from your band saw.

These band saw blades produce a thin kerf and can make remarkably tight turns.

Welds are re-tempered for superior strength at the weld.


The weld on these blades is warranted.
With re-tempered welds designed for superior strength, Timber Wolf blades are among the most rugged and durable on the market. These bandsaw blades are specifically designed to operate under low tension, requiring less horsepower from the bandsaw and increasing the longevity of both the bandsaw and the blades. Timber Wolf blades' milled teeth make these blades ideal for sawing thick stock, and the blades are guaranteed not to wander. 
Please order carefully! You will be responsible for shipping charges on exchanges due to incorrect ordering

.

Choose by Width and TPI (Teeth per Inch) - Refer to Usage Chart under Instructions Tab for Series Information. Unless noted, all blades are 0.025 thickness.


In stock lengths available: 80", 82", 93.5", 99.75" 105", 111", 115",116, 133", 137", & 142".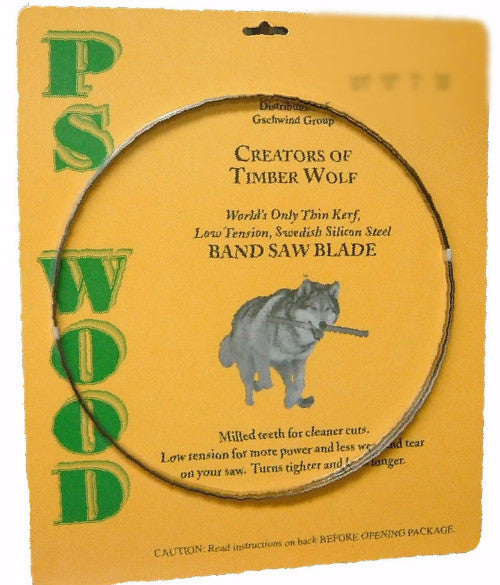 116" Timber Wolf™ Bandsaw Blades
Hello just got a Jet JWBS-14SFX 14" 110V. What is the best blade for general purpose cutting, HW SW and Plywoods 1/4-3/4 inch. Thanks. Resaw and curved cuts.

3/8" will allow you to do both. Just remember it won't do either like a 3/16" blade which allows a 3/8" radius cut or 1/4" blade which allows a 5/8" radius cut.
For resaw a 1/2" works best on 110v units. 3/4" if a 220v unit. 3/8" is like a 50 tooth saw blade, it does a lot but is not the best.
Since you are only talking about going through 3/4 material, a 6-10 tpi blade in 3/16" and 1/4" blades.
For resaw assuming wood only, 8 tpi.
If you go thicker than 3/4 you will need to change tpi to keep from getting drift and burning. 

The chart below is a great guide for usage:

https://cdn.shopify.com/s/files/1/0804/2313/files/BandsawInfoSheet.pdf?16509160906317785014

Hi, I just ordered a Jet JWBS-14SFX 14'' Bandsaw (13'' Resaw Capacity)it will be 110volt to start. What's the difference? 1/2" 3 TPI PC Series 1/2" 3 TPI AS Series 0.032 Thickness

The PC Series is for dry wood. The thickness is 0.025. The AS Series is 0.032 and is for green wood.

Hi, I just ordered a Jet JWBS-14SFX 14'' Bandsaw (13'' Resaw Capacity) , and wondering what size of blade best for resaw. 116", 3/4 or 116" 1/2 ? Thanks. --- X. Chen

This answer is tricky. It depends if you set it up as a 220-volt or 110-volt machine. If you run it on 110-volt then 1/2" is better and won't drag the motor down on large pieces. If you set up 220-volt then 3/4" is fine. 

The problem comes in on 110-volt and 3/4" blades take more HP to turn the blade hence the more amp draw on the saw slowing the blade down and causing drift.
---
Share this Product
---
More from this collection