---
Amana Tool® industrial quality carbide tipped laminate trim bits include Euro™ Square Bearings. The bits are designed according to specifications with a slight taper allowing for adjustment up or down on the work edge to finish off the edge with a smooth and burr-free cut.
The square bearing (SQB100 or SQB102) is manufactured with a strong non-stick Teflon® which won't mark your edge so it can be wiped clean easily. 
Leaves no marks on high-gloss, finished edges
Use 1/2" diameter bit with laminate trimmers
Glue won't stick to bearing
Beveled cutter means little or no hand filing
Will not scratch high gloss laminates
The beveled cutter can be resharpened
CMT's 3 in 1 carbide-tipped flush trim bits with patented Delrin® triangular bearings (791.042.00 or 791.043.00) are best for laminate trimming. They solve 3 of the most common problems that occur in flush trimming in cabinet shops. 
The anti-stick properties of the Delrin® bearing greatly reduce the likelihood of freezing of the bearing from glue. 

The extended guide surface of the new Delrin® bearing will perfectly match the work surface without scratching as a steel bearing would. The Delrin® bearing also guarantees maximum stability. 

The shear angle cutting edge reduces the need for filing. These 3 in 1 bits are ideal on plastic laminates as well as aluminum laminates!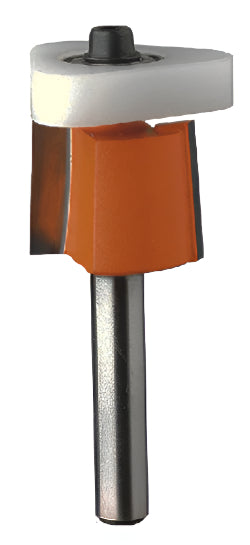 LAMINATE TRIM ROUTER BITS
which one of these bits should I use with a Bosch palm router?

Any of the first 4 with 1/4" shanks will work in a palm router. The other 2are 1/2" shanks and won't work with the Bosch.

do you sell replacement bearings for the triangular bearing router bit

Yes, at the bottom of this page: https://www.woodline.com/products/bearings?_pos=181&_sid=de79d26ac&_ss=r

Your diagram only shows it being used with the bearing on the raw edge, can it be used on the end of a countertop to trim the extra end cap material and how much material is left to smooth out with a file? I've used a similar bit and could not get it adjusted so that it did not eat into the surface laminate of the countertop.

Yes it can be used on two finished edges. The bit tapers at 3 degree angle. You set the bearing close to your material to be cut to give you a finished edge to help elimanite filing.
---
Share this Product
---
More from this collection