---
 90º Double Edge V-Scoring 25/64″ Wide, 0.090" Flat Bottom Width, 6″ Dia x 5Tooth x 5/8″ Bore V-Scoring blade designed for cutting angled cuts with flat bottoms in aluminum/non-ferrous/plastics composite sandwich materials such as:
Aluminum, Clay, Zinc & Wood Composite Panels
Aluminum Composite Materials (ACM)
Aluminum Composite Panel (ACP)

*

ALPOLIC® Copper Composite Material (CCM)
Alucobond®
Alupanel®
Dibond®
Durabond

**

e-panel™
Etalbond®
Phenolics
Plastic/Acrylic
Plexiglas®
Titanium Composite Material (TCM)
Wood
Designed for scoring Aluminum Composite (sandwich) Materials with 90° angle V-groove with flat bottom. Widely used for cladding many diverse exterior and interior applications. The long lasting durablility of the material makes it an excellent choice for buildings, signage, displays, etc. Utilizes 4-sided carbide inserts.
*
ACP is a type of ACM flat panel that consists of two thin aluminum sheets bonded to a non-aluminum core. ACPs are frequently used for external cladding or facades of buildings, insulation, and signage.
**
Durabond is a polyethylene core with 0.3mm colored aluminum sheet on either side, pre-finished requiring no decoration.
WARNING:
This set requires a custom zero clearance throat plate.
WARNING:
Not to be used with portable saws.
Replacement knives = RCK-48 $31.85 each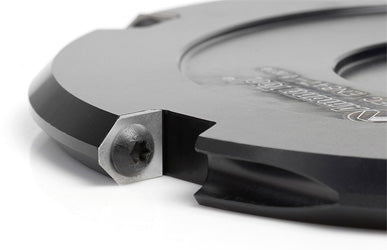 ACM 90° V-SCORING SAW BLADE
Does this include the carbide inserts?

The five inserts are included with the RC-4304. The replacements are RCK-48.

can this be used with makita track saw?

Description states:
"WARNING: Not to be used with portable saws."

Acm 90v blade: what kind of saw can i use with this blade? Brand pls?

Any saw with a 5/8" bore will work as long as it is not a portable contractor saw.  Brand should not be an issue.  Scoring would not require a high HP saw.
---
Share this Product
---
More from this collection