---
Specially designed for 2D and 3D CNC profiling and carving in plastic, aluminum & wood with CNC machines. These router bits are made with an extra-long reduced shank section for deeper reach and better chip clearance. The high-shear ball nose tips cut smooth 2D and 3D contours with reduced stepping while the proprietary ZrN coating (applied by the physical vapor deposition coating process) provides high resistance to wear, sharper cutting edges, extended tool life and less friction and heat buildup. Some of Amana Tool carving tools, as you can appreciate have a very small diameter therefore any material chip-loads need to reflect that small size. It can however withstand RPM's up to 60,000 RPMs. A directed air-blast to keep chips away along with cooling the tool and work piece are always welcome.
Amana Tool®'s Modern Materials Finishing Geometry (MMFG) incorporates high shear, multi-flute and ZrN coating designed for the ultimate combination of finish and tool longevity in aerospace materials. Modern-day materials present challenges to the fabricator, using these special multi-flute edge tools featuring ZrN ceramic coating addresses these challenges with a winning geometry combination.
The simultaneous 3 axis motion with the appropriate software allows full 3D capability that provides sign and 3D model makers the ability to work with any material.
Tools are manufactured with high balance that allows them to run up to 60,000 RPMs. Adjust your chip load and feed rate accordingly.
Applications:
A perfect bit for 3D carving
Precision 2D and 3D large scale carving
Great for deep profiling
Dimensional signage
3D millwork
2D and 3D contouring, profiling, modeling and pattern making for cabinetry, sign making, furniture making and jewelry mold making
Perfect for model-makers on large 3D milling profiles in abrasive EPS foam and other materials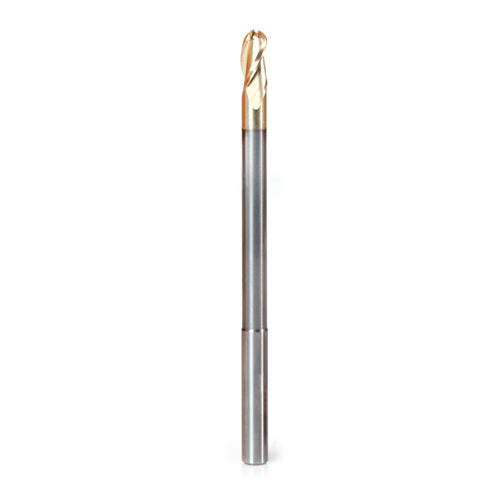 CNC LONG REACH 2D/3D CARVING BALL NOSE ROUTER BITS
QUESTIONS & ANSWERS
Have a Question?
Be the first to ask a question about this.
Ask a Question
---
Share this Product
---
More from this collection