---
NOT ELIGIBLE FOR FEDEX SHIPPING.
Used as a fence for your bandsaw, drill press or even as an auxiliary fence on your router table or table saw,  professional straight edge clamps represent a two-in-one tool, allowing you to either use them as an edge guide, or to easily clamp your boards or any object for woodworking. Available in three different sizes.
Main features:
-Made of extruded aluminum for easy carriage and enhanced durability.
-Light, yet more rigid than any other clamps on the market.
-Measuring scales, low-profile jaws, built-in T-tracks on the top allowing the use of accessories or jigs.
-Use as either single or back-to-back clamps.
Low-profile clamps allow for accurate cuts, dados and grooves. In addition they properly work as an auxiliary fence on your drill press or router table. Sturdy jaws hold your workpiece to the full length of the clamp without any side-to-side play. Adjustable scale and two T-tracks allow you to use many accessories.
Panel Master Handles
 can be used in conjunction with the PGC-24-360 clamp. Includes two metal sure-grip handles with four 1/4″ X 20 T-bolts and two knobs. Designed for use with our Arch Panel Templates to efficiently produce arch panel doors without the hassle of double-stick tape.
Back-to-back clamps with the suitable accessories also let you manage your woodworking operations with a lot of versatility. Lay two more straight edge clamps on the back of the other pair of straight edge clamps and secure them by using your back-to-back connectors. Fasten the bottom jaw pads to the table top and clamp wood with the top jaw pads. Thanks to the low profile jaws your work surface is never obstructed. The back-to-back straight edge clamps can also be taken apart for making two separate clamps.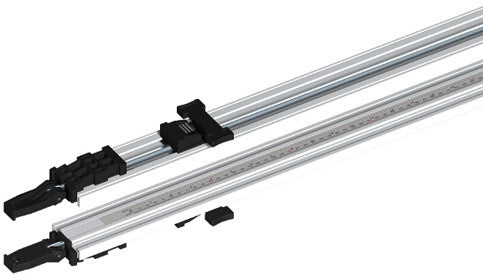 Will these clamps work with the Dadoright?

Yes. That is what comes as the package, DRC24, DRC36, or DRC50.
---
Share this Product
---
More from this collection