---
Our 3-piece 1/2" shank cabinet sets include rail and stile bits and a panel raiser with undercutter to automatically produce a true 1/4″ tongue.  Our TriStar™ sets feature three wings of carbide for less stress on your router, a more balanced load, and longer cutting life.
ROMAN OGEE- WL 2019-3
ROUNDOVER- WL 2039-3
While supplies last, add DVD5 to your order with one of these TriStar™ sets and get the DVD FREE.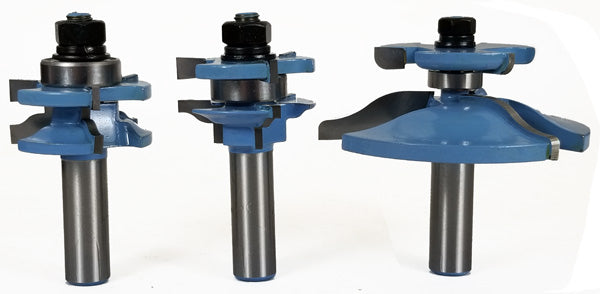 TRISTAR™ 3pc CABINET DOOR SET
How do you set depth with cabinet bits

If you are asking about the depth of cut most people use a straight rule (anything straight and thin) to square the bearing to the fence of your router table to make sure it's flush. If this no what your looking for call us 800-472-6950 8-4 CST

said add dvd to order and get dvd free. but it is charging me 17.95?

We will automatically include the DVD. You do not need to add it to your cart.
---
Share this Product
---
More from this collection