---
 NOT ELIGIBLE FOR PRIORITY MAIL OR FEDEX SHIPPING. SHIPS VIA UPS ONLY.
A simple way to flatten warped, twisted, bowed, or uneven lumber with a hand-held router. Designed specifically to be able to handle large area planing operations, the Router Gantry System allows you to take a standard 2-1/2 to 3-1/2 HP router (not included) with a 1 to 2-inch diameter router bit (not included) and be able to easily flatten large slabs, tabletop glue-ups, epoxy resin counter or tabletops, or other large projects that don't fit into the standard planer. The wood base and legs are not included. Instructions for the base come as part of each package.
With the addition of the Threaded Cross Feed to the base system, you now have the ability to easily index your router across the 'bridge' of the gantry system, which allows you the unique ability to pin the router in place and cut with the grain of the project rather than going cross-grain. Doing it in this manner drastically reduces the number of passes required to complete a project and results in a much more consistent surface, requiring less finish sanding. This has the added benefit of also allowing easy edge jointing, rabbets, dado grooves, and other linear routing operations requiring the router to be moved a specific amount consistently - 10 turns of the hand crank equals 1 inch of movement.
Extension kits include four (4) connectors with set screws installed and one (1) L-shaped hex wrench. Suggested width of the units not to exceed 72" capacity (48" W + 27-1/2" Extension Kit). 

The system allows you to expand and upgrade from manual to threaded as desired by ordering the Lead screw kits. Lead screw kits includes the Acme threaded rod, installed Delrin Acme Nuts (x2), and installed 1606-2RS ball bearings
Routers and bits to use on Router Gantry
Router Bits:
1394-2, 1393, 1394-1, RC-2250
Routers:
MAKITA-1100, TRITON TRA001 & MOF001,BOSCH 1617-1618 (EVS Models, fixed base only), BOSCH 1619 - 1619 EVS, DEWALT 616 & 618, DEWALT 625, MILWAUKEE 5616 & 5624, FESTOOL 1400, 2200, MILWAUKEE 5625-20, TREND T11, PORTER CABLE 690, 790, 890, 7518, 7519, 7538, 7539 and RIDGID 2930.
Other routers can be accommodated with a request for a 'Blank' base plate, which has three extraneous holes with one 1/4" hole in the center. After transferring the pattern, open the center hole with a bimetal hole saw.
Ships UPS ONLY allow up to 10 days for delivery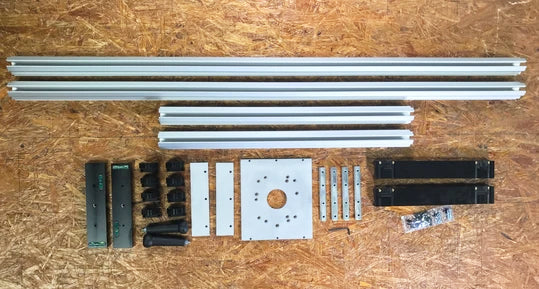 ROUTER GANTRY SYSTEM - SLAB FLATTENING
What is the difference between the RSM8400LS and the RSM2248M

RSM2248M Manual Feed Gantry System 22″ x 48″ Capacity and is a complete manual push system.

RSM8400LS Lead Screw Kit 72″ Capacity is an add-on kit to change from a manual system to a threaded system that a motor or drill can be used to drive the system.

 

Do you offer plans for the base for the gantry system.

Instructions for the base come as part of each package.

Is there an extension kit to go from 96" to 120" with a 50" width

Technically a 48" gantry can do a 50" slab as long as you are using a 2" or larger bit because there is actually 49.5" of centerline travel. The RSM2750E 27.5″ Extension Kit 24″ Capacity would get you to 120".

Is the lead screw available for both x and y?

Only x, not y.

With the threaded screw set up, can you disengage the screw to run free ?

Yes you can.

What or how are you using for height adjustment?

The simple answer is the router itself this gives you about 2-1/2" of room for material thickness before having to build up . But for the larger piece you would build a frame to bring it up to the desired height. We have a customer now with 10" and 14" built frames for large barn beams.
---
Share this Product
---
More from this collection