---
Ideal for making bowls, trays, boxes, cutting board troughs, or any other specialty or craft item. Round corners shape the inner radius while the sides and bottom create the smooth flat surfaces. Makes pattern work quick and easy. We carry a wide selection of templates for use with these bits. Carbide tipped.
TIP: Use the largest diameter bit depending on the radius of the template that you use. Remember, this is for finishing a bowl and tray project, not for removing all of the waste.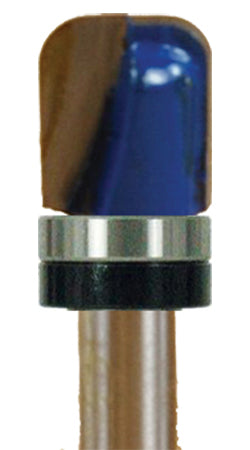 What is the shank length on the WL 1385B

1-3/4"

I purchased the "Tennessee" template for making a bowl. I have a I 1/4"diameter bowl bit with bearing but it is now obvious that the bit will not navigate the corners of that template. Will the WL-1385B 1/2" shank 3/4" diameter router bit with bearing solve the problem. Does anyone make a 1/2" shank 1/2" diameter bowl and tray bit with a top bearing ? I guess by definition there is not a 1/4" diameter bit on a 1/2" shank.

The smallest bit for this on a 1/2" shank would be the WL-1385B. There is a 1/2" diameter bit on a 1/4" shank, but as we suggested in the catalog and on the website, put the details on the outside edges and keep the inside relatively "undetailed" to make for easier cleaning. If the radius gets too tight, you will either not get anything to fit into the corners and if you do, it may never come out.
---
Share this Product
---
More from this collection