---
The center guide bearing allows you to round over both sides of material in one pass. The eased edge is perfect for stair treads, table edges, shelves, children's toys, etc.  Carbide tipped.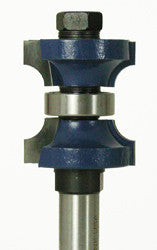 DOUBLE ROUNDOVER WITH CENTER BEARING
Have you got a thinner bearing that will allow WL-1120-1 to get a full roundover on 3/4" thick material?

Nothing thinner. To accomplish a true bullnose, WL-1114  would be the correct bit.

rounding over the edges of 2x6 for my bunk bed manufacturing business. is the wl-1120-3 going to handle 2x6?

The opening of the rounded part is only 1-3/8". This would not work on a 2x6. We can custom make a larger bit to do this for you or you will need to round over each edge independently.

Do you offer a DOUBLE ROUNDOVER WITH CENTER BEARING bit that can work for plywood from 1/2" up to 3/4"?

The WL-1120-1 might work for this.  With 1/2" material, you will only get a slight edge break.  3/4" material should be no issue.
---
Share this Product
---
More from this collection