---
A rabbet is simply a rectangular recess along the edge or end of a piece of material. It is a common joint in cabinet casework, but is also used in recessing cabinet doors in face frames, as a recess for holding artwork or a mirror in a frame, in a molding application, or for half-lap or shiplap joints. By adjusting the height of the bit and the size of the bearing, you should be able to get just the right size that you need. Carbide tipped.
For assistance in determining depth of cut & bearing sizes, click HERE.
Industrial strength carbide rabbeting bits give you fast, accurate, and simple results the first time with no tear out on the entry cuts and perfect flush milled surfaces. Use for rabbeting, slot cutting and general joinery.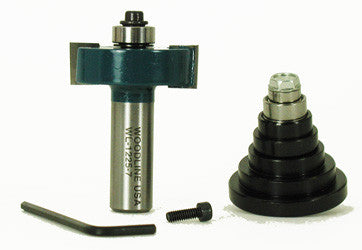 I'm looking at your SKU:WL-1220-3 rabbiting router bit. I want to use this with some different size bearings I have. Can you tell me the diameter of the bearing pilot? I'm looking for bit like this with a 1/4" shank, and a 1/4" bearing pilot.

I.D. on the bearing is 3/16".

I have a router that fits 8 mm shafts. Can I use your bits to my machine?

By using a collet reducer (RB-106), you would be able to use any of the 1/4" shank bits. The 1/2" shanks would be too large for your 8mm router.
---
Share this Product