---
Our most popular bearing sizes are included. Always great to have around for repairs.
WL-83600 includes:
791.706.00: This 5pc Collar Set for use with the CMT 835.503.11 Grand Rabbet Set includes 5/8″, 7/8″, 1-1/8″, 1-3/8″ & 1-5/8″ Diameters.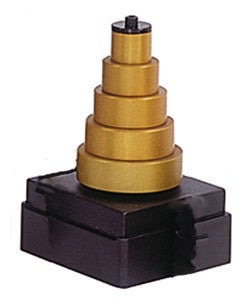 seeking a 1/2 roundover bit that will take a 1/4" bearing (I have a couple but the smaller bearings use screws that do not fit in my bits. I'd like to rout the end of a chair rail to join at the nose and cove casing backbands around the room. I think I can do it using two different bits from the back side of the moulding (using a solid crown for the chair rail).

Unfortunately the math doesn't work. The post that the bearing sits on for all of the roundovers that we carry is 3/16". The smallest bearing with a 3/16" ID is 83016 which has a 5/16" OD. A 1/4" OD on a 3/16" ID would only give you a 1/32" thick bearing which doesn't exist in our world. If you can use a router table to do this, you may be able to eliminate the bearing and use a fence to accomplish.
---
Share this Product
---
More from this collection