---
Carbide Tipped Super Fine Dado/Groover 4" Diameter x ATB Grind x 4 Teeth x -10 Deg Hook Angle x 1/4" to 1" Kerf x 3/4" Bore for Shaper 
Prestige Mighty Adjustable Super-Fine Dado / Groover for Shaper 
NOTE: This is NOT for table saws!
Prestige™ Dado Shaper Set cuts perfectly smooth edges, flat-bottom cuts, and grooves both along and across the grain that are free of splinters or rough edges. This set consists of seven cutters made of a hard-wearing steel tool body complete with four tungsten carbide tips. Ideal for producing different dado cuts, slots and rabbeting in softwood, hardwood and man-made boards on a shaper. The width can be adjusted as required using included shim set #67254.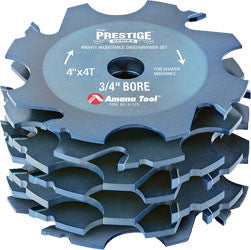 ADJUSTABLE DADO/GROOVE SHAPER SET
Will this cut to 1'-5/8"depth?

Max. cutting depth is 1-1/4".

Is the adjustable dado available with 1 1/4 " bore

Sorry, it does not.

Are these blade available for a 5/8" arbor? Is there an appropriate adapter?

No. This set is made for a 3/4" bore shaper only.

Can the 1/8" and 3/16" blades be used individually for narrow rabbeting?

Yes, you can.

Does SKU 61370 come with the shims or do those need to be purchased separately?

It does include shims but additional shims are available.
---
Share this Product
---
More from this collection