---
ADJUSTABLE MISSION/SHAKER STYLE 2PC RAIL AND STILE CABINET DOOR SET FOR 3/4" TO 1" MATERIAL
Instile & Rail System Adjustable Cabinet Door Shaper Cutter Sets for 5/8 to 1-1/4 Inch Material. 
Carbide tipped.
Designed to cut precise grooves to provide undersized plywood veneered panels with a snug rattle-free fit.
Adjust the panel groove width 3/16" to 9/32" for 1/4" plywood.
5.5mm for undersized 1/4" plywood and 5.9mm for oversized 1/4" veneered plywood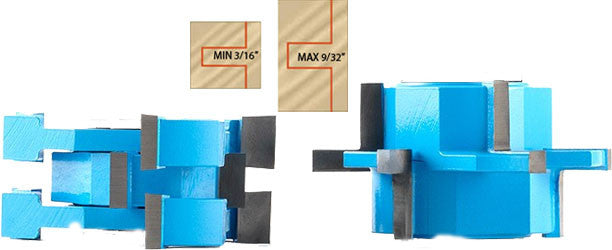 ADJUSTABLE MISSION/SHAKER STYLE 2PC RAIL & STILE CABINET DOOR SHAPER CUTTER SET FOR 3/4" TO 1" MATERIAL
How deep are the kerf's cut to accept the plywood panels

The slots are 3/8" deep and the height of the slot is adjustable as shown.

what degree is the angle on the SC565 rail and style?

This has a 22.5° angle.
---
Share this Product
---
More from this collection