---
With so many options, you're sure to find the one to fit your needs. Perfect for flawless production of Shaker rails and stiles for cabinet doors, flooring, paneling and many other projects. The one piece bits are designed to raise or lower the cutter for corresponding tongue or groove. The WL-1257 operates like a reversible glue joint; cut one piece of stock face up and the corresponding face down for a perfect match. Carbide tipped.
Use the adjustable sets when making rail & stile cuts for cabinets.  Whether you"re using hardwood, undersized plywood or a veneer product, you know you'll get an accurate panel fit.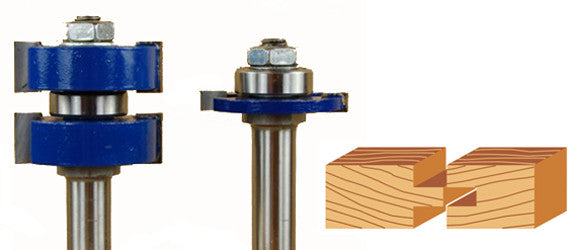 TONGUE & GROOVE ROUTER BITS
can this bit be used on 1 in thick stock?

WL-1338B will work for material up to 1-5/16".

I am looking for a T& G router set with a 1/2" shank that is the same profile as the Amana SC 450 shaper/cutter. I am installing a 3/4" engineered hickory flooring that is going to require adding T&G ends to cuts and rips. Thanks in advance for your help, Reilly

Take a look at:
https://www.woodline.com/products/tongue-groove-router-bits?_pos=1&_sid=2828296b4&_ss=r

The WL-1488-1 would work, but if you want the lower material removed from the joint the way the SC450 works, #55456 will work the same way.

My hardwood flooring is 3/8 inch thick what size router but do I need to cut my groove

The only T&G bit for material that thin would be WL-1488-2.

I'm wanting to tongue a groove 7/8 cedar for a porch ceiling, what 2 bits do I need? Can these bits be adjusted to use on 3/4 flooring boards?

WL-1338B https://www.woodline.com/collections/tongue-groove-1/products/tongue-groove-router-bits has a cut length of 1-1/8", so it will work on either the 7/8" or 3/4" material. If you have further questions, you may also call us M-F 8-4 Central Time at 800-472-6950.

I have the WL-1484 Tongue and Groove Router bit "set". I have not used it but need to use if for a project. Do you have any instructions for using this router bit? There are two cutters, separated by a bearing, with another bearing on top, and then of course, the nut holding it all together. It looks like you run the board through with the two cutters attached to make the tongue, which seems pretty straightforward. But, how do you set up the bit to make the corresponding groove, making sure that it aligns perfectly with the tongue? Thanks.

The easiest way to do this is to use the first piece that you cut as a "set up block" to align with the corresponding bit. Always run a test piece to see if you need to raise or lower the bit until you get a perfect fit.

looking for T&G router bit set with 1/2 inch shaft. That can work on 2 inch stock. I want to T&G rough cut 2x6 planks for roofing

Sorry, only available as a shaper cutter, WL-1588L.
---
Share this Product
---
More from this collection